AR-0017U (A Wind Cloud Illya's Castle) Ver. TYPE-MOON 2.0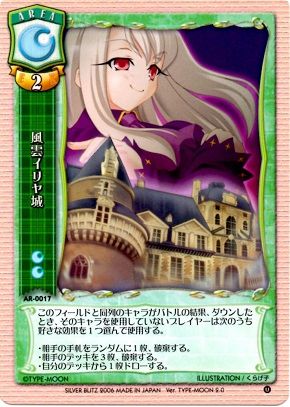 Name: 風雲イリヤ城 (A Wind Cloud Illya's Castle)

Card Type: Area
Element: Moon
Cost: 2 (moon icon)
EX: 2
Effect: 

    このフィールドと同列のキャラがバトルの結果、ダウンしたとき、そのキャラを使用していないプレイヤーは次のうち好きな効果を1つ選んで使用する。
    When any character in this column is knocked down from battle, the other player not in control of the character gets to choose and use one of the following effects.
Discard one card from the opponent's hand randomly.
Discard 3 cards from the opponent's deck.
Draw 1 card from your deck.