BT01/001EN (RRR) King of Knights, Alfred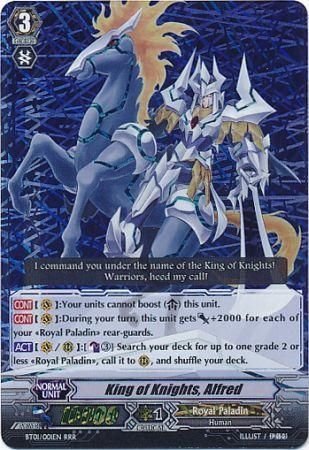 Name: King of Knights, Alfred
Card Number/Rarity: BT01/001EN RRR (Triple Rare)
Grade/Skill: Grade 3 / Twin Drive!!
Power: 10000
Critical: 1
Shield: -
Trigger: -
Nation: United Sanctuary
Clan: Royal Paladin
Race: Human
Card Effect: 
[Cont](VC): Your units cannot boost this unit.
[Cont](VC): During your turn, this unit gets [Power] +2000 for each of your <<Royal Paladin>> rear-guards.
[Act](VC/RC): [Counter Blast (3)] Search your deck for up to one grade 2 or less <<Royal Paladin>>, call it to (RC), and shuffle your deck.