CH-0422C (Mitsuzuri Ayako) Ver. TYPE-MOON 1.0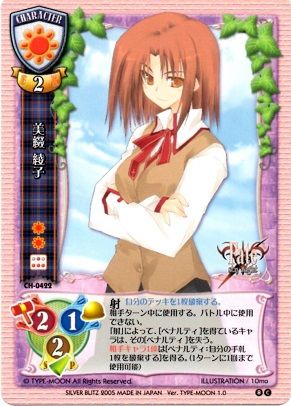 Title:

 Fate/stay night

Name: 美綴綾子 (Mitsuzuri Ayako)

Card Type: Character

Gender: Female

Element: Sun

Cost: 2 (sun icon)

Field Limitation: middle of the attack field & all defense fields

Attack Power (red): 2

Defense Power (blue): 1

Support Power (yellow): 2

EX: 2

Basic Ability: 
    

Special Ability: Archery - Discard one card from your deck.


 自ターン中に使用する。バトル中に使用できない。
    Use it during your opponent's turn. You can't use it during a battle.

    「射」によって、[Penalty]を得ているキャラは、その[Penalty]を失う。
    A character who has [Penalty] as a result of "Archery" loses that [Penalty].

    相手キャラ1体は[Penalty:自分の手札1枚を破棄する]を得る。(1ターンに1回まで使用可能)
    An opponent character gains [Penalty: Discard one card from their deck]. (Can be used only once every turn).