CH-0594U (Sion Eltnam Atlasia) Ver. TYPE-MOON 2.0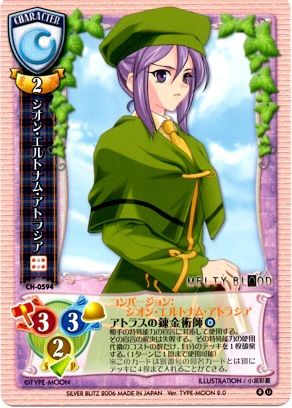 Title:

 MELTY BLOOD

Name: シオン・エルトナム・アトラシア (Sion Eltnam Atlasia)

Card Type: Character

Gender: Female

Element: Moon

Cost: None

Field Limitation: left/right attack fields & defense fields

Attack Power (red): 3

Defense Power (blue): 3

Support Power (yellow): 2

EX: 2

Basic Ability: 
    Conversion: Sion Eltnam Atlasia

Special Ability: Alchemist of Atlas (0 icon)


 相手の特殊能力の宣言に対応して使用する。
    Use this ability in response to an opponent's special ability.

    その宣言の解決は失敗する。その特殊能力の使用代償のコストの数だけ、自分のデッキを1枚破棄する。(1ターンに1回まで使用可能)
    That special ability fails. Discard a card from your deck for every number of cost for that special ability. (It can be used only once per turn)

*このカードは別番号の同名カードとは別にデッキに4枚まで入れることができる。
*You can put 4 of this character in your deck, separately from the other cards with the same name.