CH-0595C (Saegusa Yukika) Ver. TYPE-MOON 2.0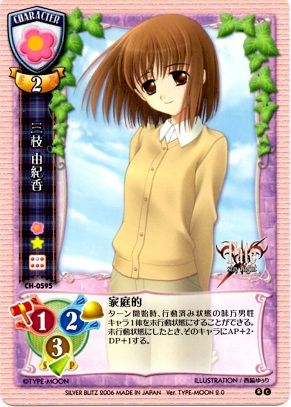 Title:

 Fate/stay night

Name: 三枝由紀香 (Saegusa Yukika)

Card Type: Character

Gender: Female

Element: Flower

Cost: 1 (flower icon) / 1 (star icon)

Field Limitation: left/right attack fields & all defense fields

Attack Power (red): 1

Defense Power (blue): 2

Support Power (yellow): 3

EX: 2

Basic Ability: 
    

Special Ability: Homely


 ターン開始時、行動済み状態の味方男性キャラ1体を未行動状態にすることができる。未行動状態にしたとき、そのキャラにAP+2・DP+1する。
    At the beginning of a turn, you can choose to untap a tapped male character. When untapped, AP+2 & DP+1 to that character.