CH-0599D R (Matou Sakura) Ver. TYPE-MOON 2.0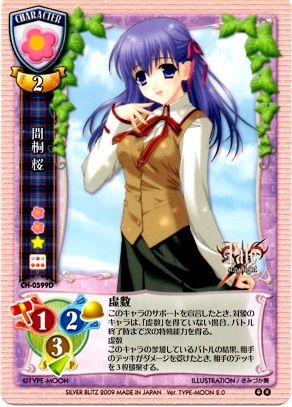 Title:

 Fate/stay night

Name: 間桐桜 (Matou Sakura)

Card Type: Character

Gender: Female

Element: Flower

Cost: 2 (flower icon) / 1 (star icon)

Field Limitation: middle of the attack field & all defense fields

Attack Power (red): 1

Defense Power (blue): 2

Support Power (yellow): 3

EX: 2

Basic Ability: 
    

Special Ability: Imaginary Number


 このキャラのサポートを宣言したとき、対象のキャラは、「虚数」を得ていない場合、バトル終了時まで次の特殊能力を得る。
    When this character supports another character, the target character gains the following ability till the end of the battle.

    このキャラの参加しているバトルの結果、相手のデッキがダメージを受けたとき、相手のデッキを3枚破棄する。
    When the opponent's deck receives damage as the result of this battle, discard 3 additional cards from the opponent's deck.