CH-0624U (Servant Taiga) Ver. TYPE-MOON 2.0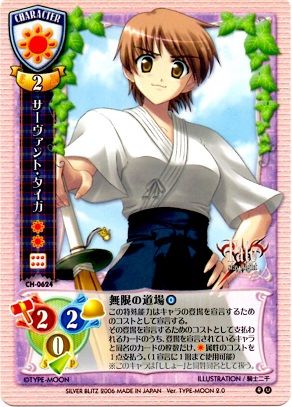 Title:

 Fate/stay night

Name: サーヴァント・タイガ (Servant Taiga)

Card Type: Character

Gender: Female

Element: Sun

Cost: 2 (sun icon)

Field Limitation: all attack fields & defense fields

Attack Power (red): 2

Defense Power (blue): 2

Support Power (yellow): 0

EX: 2

Basic Ability: 
    

Special Ability: Unlimited Dojo Works (0 icon)


 この特殊能力はキャラの登場を宣言するためのコストとして宣言する。
    Use this ability as a cost to summon a character.

    その登場を宣言するためのコストとして支払われるカードのうち、登場を宣言されているキャラと同名のカードの枚数だけ、(sun icon)属性のコストを1点支払う。(1宣言に1回まで使用可能)
    For every number of cards that are paid with the same name as the character who is summoned, pay one additional [sun] element. (It can be used only once per summon)

*このキャラは「ししょー」と同姓同名として扱う。
*This character is treated as "Shisho".