CH-1157C (Matou Sakura) Ver. TYPE-MOON 3.0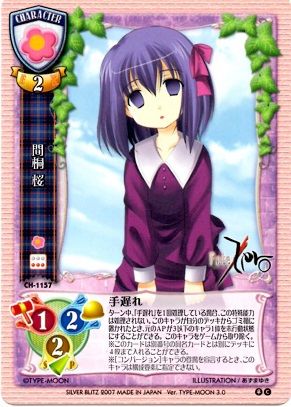 Title: Fate/Zero
Name: 間桐桜 (Matou Sakura)
Card Type: Character
Gender: Female
Element: Flower
Cost: 1 (flower icon)
Field Limitation: all defense fields
Attack Power (red): 1
Defense Power (blue): 2
Support Power (yellow): 2
EX: 2
Basic Ability:

Special Ability: 手遅れ (Too Late)
ターン中、「手遅れ」を1回処理している場合、この特殊能力は処理されない。このキャラが自分のデッキからゴミ箱に置かれたとき、元のAPが3以下のキャラ1体を未行動状態にすることができる。このキャラをゲームから取り除く。
If you already processed "Too Late" once during your turn, this ability does not apply. When this character is moved from your deck to the dust box, you can untap one character that has 3 or less AP. Remove this character out of the game.
*このカードは別番号の同名カードとは別にデッキに4枚まで入れることができる。
*You can put 4 of this character in your deck, separately from the other cards with the same name.
*[Conversion]キャラの登場を宣言するとき、このキャラは構成要素に指定できない。
*This character can't be used to summon a [conversion] character.