CH-1185U (Tohsaka Rin) Ver. TYPE-MOON 3.0A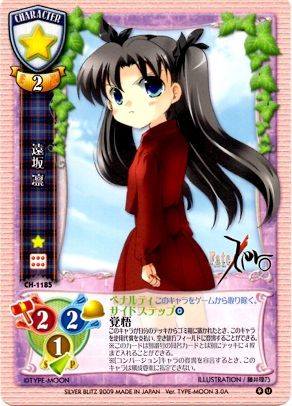 Title: Fate/Zero
Name: 遠坂凜 (Tohsaka Rin)
Card Type: Character
Gender: Female
Element: Star
Cost: 1 (star icon)
Field Limitation: all attack fields & defense fields
Attack Power (red): 2
Defense Power (blue): 2
Support Power (yellow): 1
EX: 2
Basic Ability:
Penalty - Remove this character out of this game
Side Step (0 icon)
Special Ability: 覚悟 (Determination)
このキャラが自分のデッキからゴミ箱に置かれたとき、このキャラを使用代償を支払い、空き味方フィールドに登場することができる。
When this character goes to the dust box from your deck, you can choose to pay for the cost of this character and summon her to an open spot on your field.
*このカードは別番号の同名カードとは別にデッキに4枚まで入れることができる。
*You can put 4 of this character in your deck, separately from the other cards with the same name.
*[Conversion]キャラの登場を宣言するとき、このキャラは構成要素に指定できない。
*This character can't be used to summon a [conversion] character.