CH-1437U (Maebara Keiichi [L5]) Ver. 07th Expansion 1.0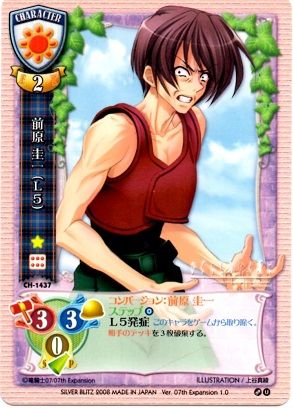 Title:

 ひぐらしのなく頃に (Higurashi: When They Cry)

Name: 前原圭一(L5) (Maebara Keiichi [L5])

Card Type: Character

Gender: Male

Element: Sun

Cost: 1 (star icon)

Field Limitation: all attack fields & defense fields

Attack Power (red): 3

Defense Power (blue): 3

Support Power (yellow): 0

EX: 2

Basic Ability: 
    Conversion: Maebara Keiichi
    Step (0 icon)

Special Ability: Onset of a L5 - Remove this character from the game.

    Discard 3 cards from opponent's deck.