EV-0319R (King's Army) Ver. TYPE-MOON 3.0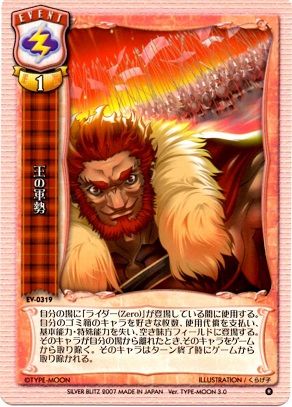 Name: 王の軍勢 (King's Army)

Card Type: Event
Element: Lightning
Cost: None
EX: 1
Effect:
自分の場に「ライダー(Zero)」が登場している間に使用する。
Use it while "Rider (Zero)" is on your field.
自分のゴミ箱のキャラを好きな枚数、使用代償を支払い、基本能力・特殊能力を失い、空き味方フィールドに登場する。そのキャラが自分の場から離れたとき、そのキャラをゲームから取り除く。そのキャラはターン終了時にゲームから取り除かれる。
Summon as much characters as you want from your dust box by paying for its cost to an open spot on your field, while they lose their special and basic abilities. When those character leave the field, remove that character out of the game. Those characters are removed from the game at the end of the turn.